Stop me if you've seen this one:
Open on a shallow depth-of-field shot of a business owner, dentist or HVAC repair technician. They begin: At AAA Acme Services, we know your schedule is busy. Cut to montage of concerned customers nodding as AAAAS "team members" show them clipboards and point at mechanical looking things and/or computer screens. That's why we put your needs first. Because we care. About you. Cut to smiling customers shaking hands with AAAAS "team members." Cut to shot of a youth receiving a sucker or AAAAS Jr. Team Member cap. At AAA Acme Services, we're just neighbors helping neighbors by being neighborly because that's what neighbors do. End on logo with tagline "Our best service is serving you."
The question is not whether you've recently seen a commercial constructed like the above, but how many you've seen since waking up today. Like a fool, I work out at an unholy hour of the morning (looking this average takes effort, folks) and often find myself watching the local news. Over any given 30-minute stretch, I am liable to see five or six prime examples of what I call "overly earnest advertising." Always sincere. Always well-intentioned. Always making me yearn for the traffic report even though I work from home. To be fair, some these spots are very well-produced. Many of the real people in them seem genuinely, well, real. But that's not the issue. The issue is that well-made wallpaper is still wallpaper. And given its cost of entry on even a local scale, advertising cannot afford to be wallpaper.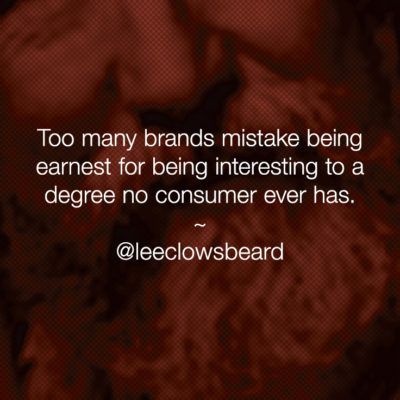 I know why these spots exist. They're relatively cheap to produce and require little in the way of pesky "creative services fees." But, even more so, businesses want to be seen as relatable, knowledgeable and trustworthy. Worthy attributes all companies should aspire to embody. But there's a difference between illustrating said character traits and merely telling people you possess them. And then to tell people such things in a manner that has long since lost the ability to attract ears and eyeballs just sets these businesses up for very low levels of success. (Why not failure? Because just about any advertising is better than no advertising.) It just isn't enough for advertising to be sincere. Regardless of how honest you are, you're still someone trying to get someone else's money. As such, consumers' defenses are always at WOPR-induced levels. So. Want to be seen as likable? Make a likable ad. Want to be seen as trustworthy? Show people they can trust you with their time by not wasting even 30 seconds of it with a bad ad. Really. It matters. Advertising, if it has any hope of achieving long-term effectiveness, must reflect the personality of the brand as it sells. It cannot merely promise a good experience, it must itself be a good experience. Because a good experience is memorable experience. And people only hire or buy from companies they remember. I promise. Sincerely. —— This column originally appeared in the Fall 2017 edition of
Omaha B2B
magazine.