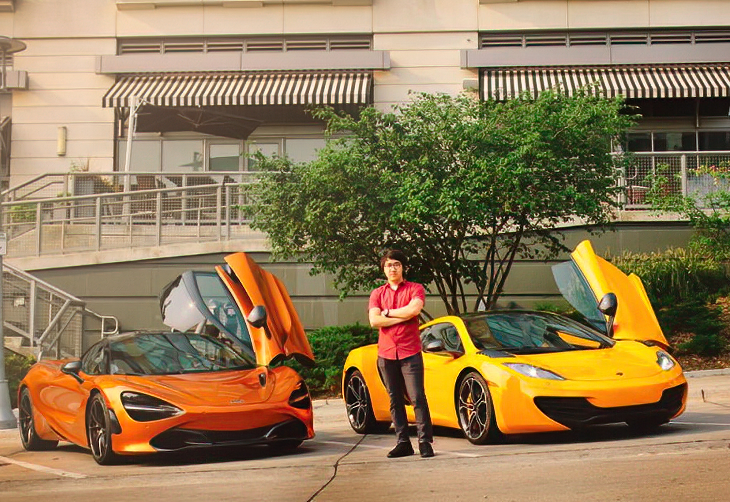 The family that accelerates from 0-60 in under 3 seconds together stays together. Carelessly mangled idioms aside, that observation holds true for a least one area father-son duo, Drs. Kam and Max Chiu. Both are radiation oncologists (Kam practices in Lincoln, while Max is completing his residency at UNMC). Both developed a love for automobiles early in life. And both own ultra-high-performance sports cars built in Woking, England, by storied race car manufacturer McLaren.
The elder Dr. Chiu, whose love of fast cars is rooted in the hours spent at his father's Hong Kong toy factory, kicked off his family's mini British Invasion in 2013 with the acquisition of a McLaren MP4-12C Project Alpha. This very English answer to Italian and German exotic dominance boasts 616 horsepower from a 3.8-liter, twin-turbo V-8 engine nestled behind the carbon fiber passenger cell. A description, along with assorted industry reviews, compelling enough to encourage Kam to make his purchase without ever before having a driven a McLaren, let alone this specific, $300,000-and-change special edition.
"I bought it off the internet…from [a dealer] in California," Dr. Chiu nonchalantly admits. He even traded in his beloved Ferrari F430 as part of the deal, not knowing if he'd instantly regret the decision.
"So they pick up the F430 and drop off the 12C, and that first spin? I take it out and it's just fantastic," recalls Kam. "The 12C is a lot more comfortable than the 430." As one of only six Project Alpha cars created in collaboration between exotics dealer McLaren Chicago and the factory's McLaren Special Operations division, the orange-and-black 12C is a rarity among rarities.
For Max, following his father into the world of mechanized speed was an even easier decision than following him into the medical field. And when it came time to dip his own right toe into the exotic market, the answer was obvious: The third iteration of the MP4-12C now christened the 720S (for 720 metric horsepower, or 710 by U.S. standards). "The 720 is definitely a lot more refined [than the 12C]. I drove it almost every day for the last month," he says. "But then I took it out on some twisting country roads last week…and it's insane. I don't know how else to describe it."
While the doctors' McLarens are two of only a handful in the area, they are part of a (perhaps surprisingly) thriving exotic scene in Nebraska. "In a state of only a couple million, you have plenty of Ferraris, Lamborghinis, Porsches, things like that," reveals Kam. But the pair lament a lack of dealerships or other service options – the closest McLaren locations are in Chicago and Denver.
Numerous cars have cycled through their hands over the years, and the Chius currently own a handful of other high-performance vehicles, including a rare-for-America JDM (Japanese Domestic Market) Nissan Skyline GT-R. But the McLaren magic doesn't seem likely to fade anytime soon. "I would most likely purchase another McLaren sometime down the road," offers Kam. "It has the substance to back up the looks."
Although, when pressed to pick his favorite among all the vehicles he has owned over three decades of collecting, Kam admitted, "If I could only own one car ever, it would be a minivan."
—
This piece originally appeared as the "How I Roll" column in the Aug/Sep 2018 edition of Omaha B2B magazine. The author's original text is presented above.