The Obligatory Super Hole XIII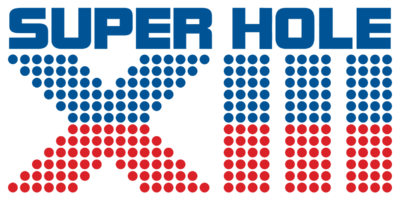 This, the thirteenth annual Super Hole, is by the far the most difficult edition I have ever had to write.
Not because too many brands ruined the surprise by running their Super Bowl ads as pre-roll on YouTube a week before the game (which they did).
Not because so many brands thought a C-grade idea married to a B-grade celebrity would magically yield A-grade results (they did, and it didn't).
Not because, as is industry tradition both today and every day, production values were thought synonymous with having something of value to produce (wrong again).
And not because more than one brand believed in the power of exposition over narrative to the disinterest of all (sorry, Basil).
No, I was forced to mine the depths of my admittedly limited courage in order to type these subjective (if ultimately correct and parenthetical heavy) opinions because I, dear audience, am I lifelong Kansas City Chiefs fan. Having grown up just to the east of Arrowhead Stadium along I-70 (look for the Cracker Barrel), and having waited 25 years for another shot at an AFC crown, having to watch Kaptain Kale and something called a Gronk once again roll into the Super Bowl (and over the Chiefs) chafes and chaps me to the quick. All I can say is, "Great googly moogly."
Onward.
As I did last year, I'm only posting my top five picks of the night. Thus saving myself from possible future employment immolation by grading the all-too-plentiful whiffs and what-the-whats this year's game offered.
As usual, the selected spots were shown during the actual game itself, so no pre- or post-game ads. Local/regional ads, TV show promos, and movie trailers are likewise excluded.
Alas, these rules mean the Skittles Broadway play is ineligible. But I somehow doubt they really care.
At last, on with the countdown.
—
No. 5: Amazon Echo, "Not Everything Makes the Cut" – A longstanding joke (at least in my head) has been that, if you slap Bluetooth on an existing product, the Kickstarter funds will follow. It's a corollary to George Carlin's maxim that "if you nail two things together that have never been nailed together before, some schmuck will buy it from you." Amazon extended this to their own, increasingly ubiquitous Echo devices and demonstrated that adding Alexa to everything isn't really the best idea. I think the spot could've worked better if it'd been a bit shorter, but still – who doesn't love a grumpy Harrison Ford teamed with a Boston terrier? Vladimir Putin, that's who.
—
No. 4: Bud Light & Game of Thrones, "Joust" – I don't drink Bud Light, and I don't watch Game of Thrones. But this twisted takedown of a crossover was completely unexpected and exceptionally well done. Just like the Bud Knight at the end. (See that previous line? Never, ever write a commercial that relies on similar wordplay. Ever. I only did so for educational purposes.)
—
No. 3: NFL, "The 100-Year Game" – Two minutes of pure football joy only slightly marred by the fleeting presence of Commissioner Roger Goodell. Especially refreshing after that nightmare of a halftime show.
—
No. 2: Audi, "Cashew" – Craft. It's what is sadly missing in most of today's advertising. Perhaps the shortage is due to Venables Bell & Partners absconding with it all and pouring it into this spot. From the opening shot that, if you're one who recalls a certain scene from "Gladiator," actually telegraphs where the first three-quarters of the spot is taking place, to the unreturned high-five near the end, this spot oozes detail and attention to craft. It's a payoff gag is made even funnier by a great match cut (there's that craft again). Basically a showcase for Audi's pending E-Tron GT and the firm's technological prowess (vorsprung durch technik, indeed), the spot relies upon the audience's knowledge of some well-worn cinematic tropes to create something truly enjoyable and memorable. It may not quite be a modern classic, but it's a worthy execution for its placement. Also, nice logo treatment at the end.
—
No. 1: Microsoft, "We All Win" – Rare is the montage spot that manages to weave an emotional story. So rare, in fact, that I generally advise against using the format at all. But McCann manages to live up to their 106-year-old agency motto – Truth Well Told – and then some with this piece for Microsoft. A true branding spot, the commercial features a variety of kids who share both a love of gaming and the frustration of not being able to use a typical game controller due to assorted physical limitations. Technically, the spot is about Microsoft's Xbox adaptive controller, which gives these kids the ability to play up the limits of their own skills – challenging, cooperating and conquering their friends in the process. In reality, of course, the spot is about the kids – including Owen Simmons from an earlier Microsoft spot. I couldn't even tell you what the adaptive controller looks like. But I can tell you Microsoft did something great for a great number of kids who just want to be part of the gang. Not preachy. Not manipulative (any more so than a good documentary, at least). But prone to make queso-laden tears drip into the salsa. Or so I've heard.
—
All in all, it was a relatively weak year. Both for the ads and the game itself (another Patriots victory in a 13 – 3 snoozer). But a couple of honorable mentions include bubly's "Michael Bublé vs. bubly," and Hyundai's "The Elevator" with an always-sharp Jason Bateman. But nothing approached "It's a Tide ad" from last year. But, there's always LIV in 2020 and hope springs eternal.